Another Great School Visit

Recently, I spoke to approximately 130 sixth grade Advanced Science students at Carlos E. Haile Middle School. Click here to view the article.
"The Scent of Something Sneaky"
Hang on-Emily and friends are at it again!
Accidents keep happening at the mountain bed & breakfast where fourteen-year- old Emily Sanders is working with her friend Mary. A broken step, a stinky septic tank, an invasion of bees, even a fire threaten the livelihood of the innkeeper, Mary's grandmother. Emily suspects foul play, but only when a crashed van links drugs to the inn do her friends start to help her investigate. Soon Emily, Mary, and neighbor boy Alex are over their heads in danger. This is an exciting sequel to the NSTA/CBC award winner Something Stinks!
Available at Amazon.com and Tumblehomelearning.com
STEM Conference in Olympia, Washington Features SOMETHING STINKS!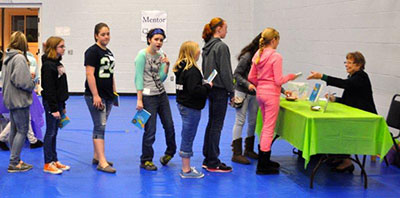 Over three hundred middle-grade girls each received a copy of Something Stinks! as part of their 'Swag Bag' at the Expand Your Horizons Thurston County (WA) STEM Conference. The annual conference has a 'focus on introducing them to careers in Science, Technology, Engineering and Math through hands-on workshops….' As part of the opening ceremonies, I spoke to the entire group on the inspiration for Stinks! as well as themes found in the book. Also, I led a workshop just for parents on the importance of communication skills for their daughters.
This was a great experience, an honor, and fun. As the guest of the EYH group, I flew out, met with the organizers, was treated to a tour of Olympia and a planning session dinner on the waterfront. At the conference, the girls were eager, smart, and attentive. (and funny!) Signing that many books turned into a mini-marathon, but I loved it. It was a great time, and a wonderful way to use this book to deliver the message to a lot of young ladies, that they can make a difference and they can do it with STEM. More pictures in Photos.
When a Book Inspires Continued STEM Learning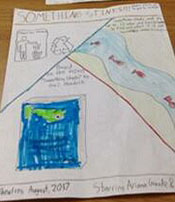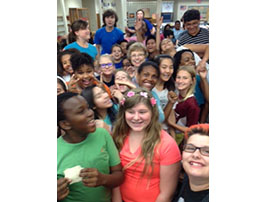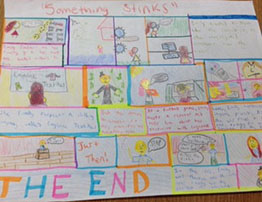 At the request of sixth-grade science teacher, Anna Fidelo, I did an author visit at Windy Ridge Elementary in Orlando, Florida. I spoke to 100 students about Something Stinks!, being an author, and what it takes to write a how to write a science mystery. I was greeted by very enthusiastic fans with lots of great questions.
In addition to their project on water filtration and ecology, the teacher gave the students two challenges in regard to Something Stinks! The first, if the book was made into a movie, what would the movie poster look like? The second was to work with a team, and create a comic based on the book. Here's one poster and one of the comics. Aren't they neat? To see more, check out the photos section. This was a really special experience. Thanks, Windy Ridge!
Virginia NSTA Conference Full of Surprises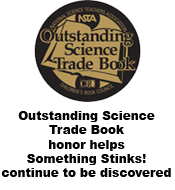 While at the Area Science Education Conference in Richmond to receive recognition for Something Stinks! making the 2014 National Science Teachers Association/Children's Book Council's Outstanding Science Trade Book List, I had the opportunity to sit in on lectures and workshops. I chose one named, "Encouraging Scientific Habits of Mind Through Literacy Instruction."
Sitting in the audience, I was looking at the handouts and listening to Jillian Wendt, Virginia International University, begin her workshop. Her first order of business was to ask if anyone was familiar with the book she held up for all to see. To my surprise, she held a copy of Something Stinks! Sheepishly, I raised my hand. She pointed to me, and asked, "You've read it?" I replied, "Yes, I, um, wrote it." What followed was an interesting hour of discussion about how Something Stinks! was an excellent example of using science in literature. Dr. Wendt was very gracious, but I can tell you all it was a great boost to this author's ego to walk into that classroom that day! To see pictures from the NSTA conference see Photos.





Please "Like" the Gail E Hedrick Author page on Facebook


Thanks for dropping by my site. I put this up to share information with you about my writing and me. Look around and tell me what you think. I look forward to hearing from you!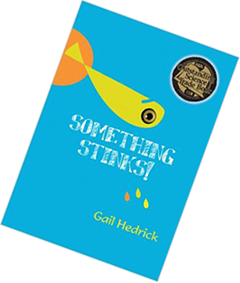 News
Activity "Pat Your Tummy" published in Highlights High Five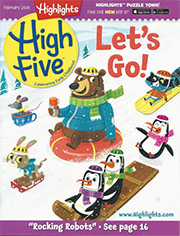 Article "Making Sense of Scent" published in Nature Friend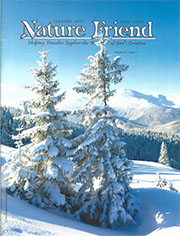 To catch my Author Appearance on Channel 7's Suncoast View Click here!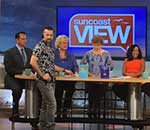 Terrific Book Signing
Bookstore1Sarasota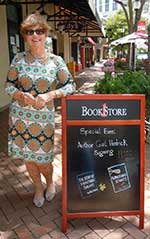 Reviews
"…The Scent of Something Sneaky is a top recommendation for pre-teens and teens looking for a leisure read that's action-packed and vivid."-- Midwest Book Reviews
"…a good adventure that not only dwells on the intriguing mystery at hand, but also on the characters themselves." – Readers' Favorite 5-Star Rating
And, for Stinks!---August 7, 2015 "STEM Can Be Fiction, Too"
"...the type of book that is likely to inspire readers who might otherwise avoid STEM to give it a chance because it reveals how science can have important real-world applications." STEM Friday
More reviews in Recognitions
Selection as a 2014 Outstanding Science Trade Book has helped Something Stinks!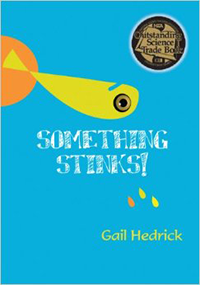 continue to be discovered.
And, finally...
I've traveled from Virginia to Orlando to Olympia, Washington talking to kids about writing and science.
Teachers say Stinks! "will help me show my students science isn't just a subject we learn…it's a way of life!" And, "your book…we are using in conjunction with an end of the year STEM project on filtration and pollution."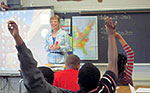 Interested in an author visit?
Need a speaker for parent workshops?
Email gailehedrick@yahoo.com for more information
Member: